New dual socket Fujitsu PRIMERGY server generation
Submitted by fazekas.ferenc on 2012, April 20 - 10:44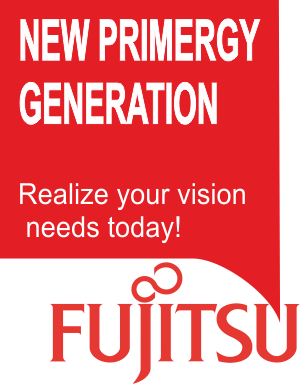 The new Intel-based Fujitsu PRIMERGY dual-socket servers for scalability, performance and cost-effectiveness embodied the ideal combination. The enterprise data centers and medium-sized businesses and branch offices for systems efficiently computing performance for mainstream business applications, server and storagevirtualisation the private cloud architectures, infrastructure, server tasks, virtual clients based computing and high performance usage scenarios support.
The Fujitsu PRIMERGY dual-socket tower or rack servers, a new generation of innovation and development in a number of offers that are targeted to meet specific user requirements. The developments are especially evident in the following three areas:
The Intel ® Xeon ® processor E5 family, due to optimal integration of the new dual-socket PRIMERGY server models are orders of magnitude performance improvement. The GPGPU (General-Purpose computing on Graphics Processing Unit) card support for enhanced data transfer speeds and a host of advanced features, the new PRIMERGY servers from virtually any business application or data center scenario to serve.
For companies, it is critical that IT infrastructure easily to changing economic conditions and to adjust priorities. The new PRIMERGY servers modular house data center can respond to this demand. High-level server platform for creating customizable, which the current IT customers according to their needs, and then are free to configure their systems to expand as needed.
The innovative Fujitsu ServerView ™ Virtual I/O Manager application simplifies the administration of PRIMERGY servers and network-neutral virtualization enables a dynamic data center. The virtual server profiles Move, Add and restoration is feasible without stopping, the system re-installation of images and time-consuming work is reduced from hours to minutes. The simplified control of consumption and a 94% efficiency modular power supply further energy savings.

The tower-, rack- and blade-models, including the new Fujitsu PRIMERGY dual-socket server generation members:
The uncompromising, efficient PRIMERGY TX300 S7 tower server
The 1U housing PRIMERGY RX200 S7 maximum productivity rack-mount server
The versatile rack server PRIMERGY RX300 S7
A scalable, PRIMERGY RX350 S7 newly introduced server rack
The PRIMERGY BX920 S3 is a versatile and cost-effective server blade
The most demanding applications PRIMERGY BX924 S3 server can support blade