The Web Access Control won Award by Fujitsu
Submitted by vic on 2012, June 18 - 18:13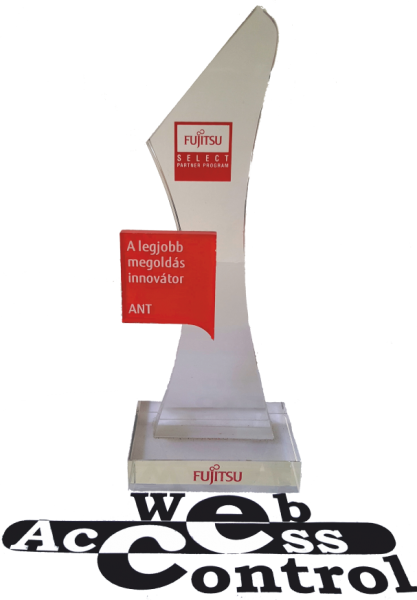 ANT Ltd. In 2012, received a prize with the "WebAccessControl" product by Fujitsu - at the international fee structure - fees are allocated to the Hungarian "Best Solution Innovator" award.
The award was presented 2012th June 7 has been traditionally held in the Fujitsu SELECT Partner event, which this year Kopaszi Dam - Bay House hosted.
The prize was awarded to Fujitsu especially promised the ANT WAC named product as a solution to the implementation and further development of the ANT was also used by the Fujitsu solutions.
There are plans for a "common" discharges, which Fujitsu provides the hardware environment for ANT and the firmware. The appliance will bring innovativ solutions to the market that the current type of appliance, network security solutions are usually either very expensive or low levels of knowledge - said Viktor Tábor ANT Market Managing Director responsible for the area.
He said also to be promising sign is that the product is given the opportunity to contest the Fujitsu concerned international development manager in charge of the presentation. If it wins the world's leading supplier of ICT acclaim, it possible to be added to the list and global distribution of the world's 70 countries - with the Fujitsu maintains a network - will be available with the product. Of course this is just an option and will have plenty of work to do in Viktor Tábor warned.
Around The product is not the first success, since the development of EU competition managed to gain support.
- This grant is a great help in our company that the product is set up. Without it, probably would have taken a much longer time, and many more have been characterized by nervousness and struggle of two years of development. - Said the director of the project, while having an affair remember - I have to say that were grant from the EU, because so many negative stories overtone accounts on the application, and we had a bad experience in the past about it. I have to say that the current situation is very different, much more flexible and business friendly than the old memories. It is no coincidence, then, that almost every task in the implementation of the proposed time limit has been achieved. It is therefore particularly pleased that this development, we also evaluated the Fujitsu and we attained this prestigious award.